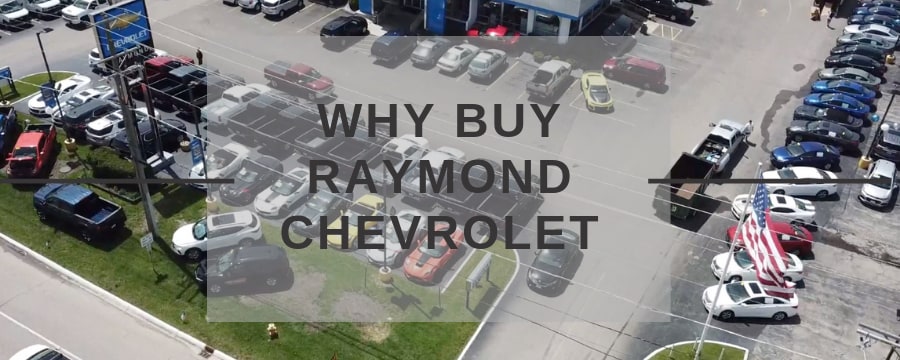 If you are looking to upgrade to a new Chevy vehicle, Raymond Chevrolet can help you. Raymond Chevrolet is your local Antioch Chevy dealer, and we have a lot of great Chevy models for sale. Learn more about why you should buy with us below.
Why Buy Raymond Chevrolet?
There are a lot of great reasons to buy with Raymond Chevy. Check out a few of these reasons right here. 
Vehicle Selection - When you are looking to buy a new vehicle, you want to get exactly what you want. At Raymond Chevrolet, we can help because we have a great selection of new and used Chevy models for sale near you. We have trucks like the Chevy Silverado and Colorado, cars like the Chevy Malibu and Cruze, and SUVs like the Chevy Equinox and Blazer. Our wide selection of vehicles means that you will get a vehicle that fits perfectly with the needs of your lifestyle. 
Experienced Staff - Another reason to choose Raymond Chevy is because of our experienced staff. We have sales professionals that have a great deal of knowledge about the different makes and models we offer. This means we can answer any questions you may have, and we can point you in the direction of vehicles that we think you might like. 
Financing Options - At Raymond Chevy, we also have some great financing options for you. We will take some basic credit information from you, and we will help come up with an auto loan that fits with your life and your budget. 
Service Professionals - We also have a service center where you can get your vehicle fixed if you ever have any problems. We are a one-stop-shop where you can get everything you need for your vehicle. 
We Care About You - Last, but not least, we care about you at Raymond Chevrolet. We want to work with you to help you get the vehicle you want and the financing you need. We can also help you with any service or repairs for your vehicle. We care about your needs and your life, so we will do our best to help you get what you need. 
Raymond Chevrolet is your local Antioch Chevy dealer. We have a great selection of Chevy models for sale near you, so stop by to take a look today, and let our staff help you upgrade your vehicle.
Hours
Monday

9:00 am - 9:00 pm

Tuesday

9:00 am - 9:00 pm

Wednesday

9:00 am - 9:00 pm

Thursday

9:00 am - 9:00 pm

Friday

9:00 am - 9:00 pm

Saturday

9:00 am - 7:00 pm

Sunday

Closed
Make an Inquiry
* Indicates a required field