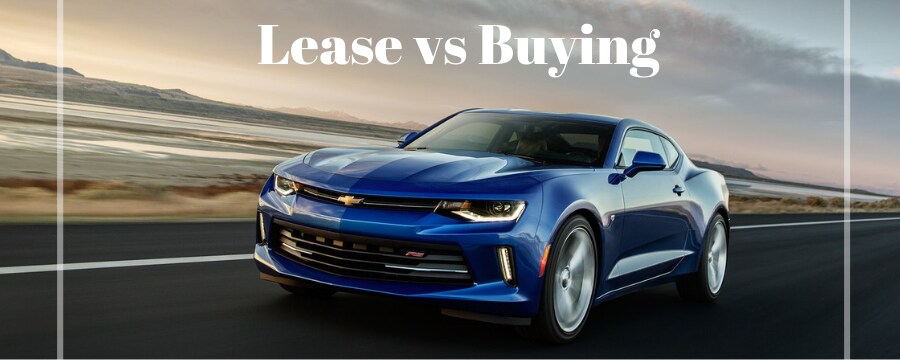 Chevrolet is America's most popular and trusted automobile brand. Whether its a functional Sedan, versatile Truck, and everything in between, you can easily find a Chevy model that perfectly suits your driving needs and desires.
Now if you think its time to upgrade your everyday driving experience with a new Chevrolet, you need to know what's the ideal financing option for you given your current circumstances. Should you buy or lease your next Chevy car, SUV, or Truck?
This decision is completely up to you but if you need some reliable help on the matter, our finance experts here at Raymond Chevrolet in Antioch, IL, your trusted Chevy dealer me, have provided some important insights on the advantages of both buying and leasing and when each decision would make practical sense. Keep reading below so you will gain the information you need to make the right decision.
Why you might want to Buy a 

Chevrolet

When you decide to buy one of the Chevy models for sale at our dealership, you will have the complete freedom and flexibility to use the vehicle at your own discretion. There are no mileage restrictions that you need to follow which means that you can cover as many miles of roads with your Chevy as you want. You can also modify your car and trade it in for a new model at any given time. It's also the more economical option in the long run.

 

Overall, it would make sense to buy a Chevrolet if you are someone who:

 

●     Prefers to personalize your car. You won't enjoy the returns of this investment when you lease a Chevrolet.

●     Doesn't want any limitation on driving. Leased units generally have restrictions at 15,000 miles a year. Extra miles will incur additional fees.

●     Wants to be the sole owner of your Chevrolet.

●     Financially prefers paying off a large purchase.

●     Comfortable in covering the necessary repairs and maintenance of your car on your own once the warranty expires.

 
Why you might want to lease a Chevrolet
When you lease one of the Chevy models for sale at our dealership, you will enjoy several unique perks such as lower monthly payments and minimal repairs and maintenance costs with complete access to its factory warranty. You will also cover lower sales Tax and up-front costs as well.
Overall, it would make sense to lease a Chevrolet if you are someone who:
●     Wants to drive a new Chevy model every 2-3 years with ease
●     Has no problem driving no more than 15,000 miles every year
●     Prefers to use a Chevy that is under warranty
●     Wants to drive a Chevy that you currently cannot afford to purchase
●     Doesn't mind owning a car but just want to use it for certain driving needs
●     Wants to save on tax for your business or profit from monthly car allowances granted to you by your company
Explore your finance options here at Raymond Chevrolet!
So what do you think is the better financial option for your next Chevy? Should you buy or lease? Come and take the short drive to a renowned Chevy dealer near me at Route 173, Antioch, IL to take a test drive and discuss your needs and circumstances with one of our friendly finance staff so you will know more about pros and cons of buying and leasing a Chevrolet.
Explore our inventory and discover Chevy models for sale offered alongside budget-tailored financing and leasing solutions or contact us at 844-338-9077 for any and all questions and concerns that you may have in mind in driving a new Chevy with Raymond Chevrolet!
Hours
Monday

9:00 am - 9:00 pm

Tuesday

9:00 am - 9:00 pm

Wednesday

9:00 am - 9:00 pm

Thursday

9:00 am - 9:00 pm

Friday

9:00 am - 9:00 pm

Saturday

9:00 am - 7:00 pm

Sunday

Closed
Make an Inquiry
* Indicates a required field