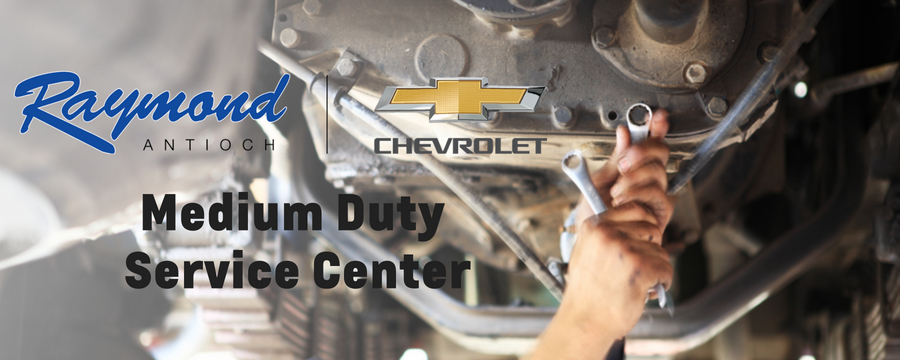 Welcome to the Leading Antioch Chevy Service Center
Helping you find the perfect medium duty Chevy truck for your business is just one half of the service we offer here at Raymond Chevrolet. As a leading Chevy commercial dealer in Antioch, we pride ourselves on our exceptional customer aftercare service, which includes our fantastic service center.
After investing in a medium duty truck for your business, keeping it in excellent working order is a sensible decision. After all, it is a matter of protecting your investment. The more frequently your truck gets a check-up, the less likely it is to develop a serious issue. And if your truck isn't running properly, then it isn't servicing your business or your customers correctly. Maintenance is an essential investment and it is one we recommend all of our medium duty truck buyers invest in.
But most regular service centers aren't cut out to handle medium duty trucks. That's why you need to come to a dedicated Medium Duty Service Center, like our facility here at Raymond Chevrolet.
A Medium Duty Truck Service from a Chevy Dealer near Me
If you've been searching for a "Chevy dealer near me that offers medium duty truck servicing", your search is over. We are the leading medium duty truck service center in the area and the only one with authorized and certified Chevrolet technicians.
That means our team knows exactly what it takes to keep your truck running smoothly and have access to certified Chevrolet parts and tools should anything need repairing or replacing. They are also knowledgeable about every possible medium duty truck issue and the correct procedure to repair it.
We focus on preventative maintenance with a view to keeping your truck in excellent shape and avoiding any serious and expensive issues. This is achieved through a series of multi-point inspections, reports, and readouts, along with regular oil changes, fluid monitoring and general care.
Schedule Your Appointment Today
Whether you have one truck or a fleet of trucks, you can schedule a service appointment today. Should you need to service several trucks, we can work out a schedule with you that causes minimum disruptions to your business and ensures that only one or two of your trucks are off-road at any one time.
Give our team a call on 844-338-9123 or use our online booking form to ensure your trucks continue you to serve you as well as the day you bought them.