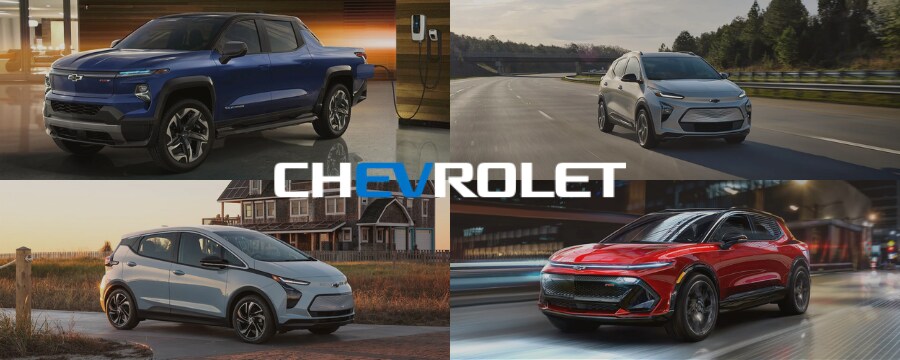 At Raymond Chevy dealer Round Lake, we're happy to share some exciting news about the upcoming Chevy EV lineup. This lineup is perfect for eco-conscious Illinois drivers, and we have some exciting details to share.
Silverado EV
The 2024 Silverado EV is the highly anticipated electric model for the Silverado that adds smart, agile, and high-tech features that standard pickup trucks don't have. Thanks to the help of General Motors, the Silverado EV battery is expected to run on the Ultium platform, which provides a range-per-charge of over 400 miles. The DC fast-charging tech can power the battery within 100 miles of range in only 10 minutes.
The all-new Silverado EV has a power spec that includes the dual-motor e4WD system rated at an impressive 664 horsepower and 780 lb-ft of torque. In fact, it can accelerate from zero to 60 mph in a lightning-fast 4.5 seconds. 
Despite all of its technological upgrades, the Silverado EV still maintains its beefy qualities. It's capable of hauling up to 1300 pounds of payload and tow up to 10,000 pounds. The Silverado EV also includes an adaptive air ride suspension technology and four-wheel steel steering. This lets users adjust the vehicle's height and provide better traction for off-road or bad weather conditions.
Not to mention, the Silverado EV is equipped with many designs and functional features to improve the user experience. It offers a multi-flex tailgate with six-adjustable positions, making it easy to load, carry and unload equipment. Additionally, it has a modern and sleek panoramic fixed glass roof letting you feel the nice breeze and sunshine.
Equinox EV
Expected to launch in Fall 2023, the 2024 Equinox EV is looking to rival and out-dual the other crossover EV vehicles. This crossover is expected to start at $30,000, making it a very affordable and fuel-efficient option for consumers. Like the Silverado EV, the Equinox EV will run on GM's Ultium platform, meaning it'll likely have a driving range between 300 to 400 miles.
Furthermore, this all-new EV will feature General Motors ' premium Super Cruise driver-assist system. This high-tech system uses various onboard sensors, radars, and cameras allowing drivers to take their hands off the wheels when driving on a compatible highway. In North America, General Motors has programmed about 200,000 miles of road that the Super Cruise technology can be used on. The Equinox EV is also expected to be available in all-wheel-drive and has higher horsepower than the Bolt EV.
Bolt EV
Chevy's Bolt EV is the smallest, most affordable, and most nimble EV option. The electric motor features a 200-horsepower engine with 266 lb-ft of torque. Also, it features Level 2 charging, which has a charging speed of 11kW, allowing the car battery to charge fully in seven hours.
Driving on the EV is incredibly comfortable with its unique one-pedal driving mode. This feature increases regenerative braking to the point where your vehicle can come to a full stop without using the brake pedal. For example, if the driver anticipates a stop ahead due to a stop sign or traffic light, they can ease off the accelerator pedal, and the vehicle will decelerate on its own.
Find the Chevy EV Lineup at Raymond Chevrolet
Learn more about the Chevy EV models at Raymond Chevy Antioch IL. We're the exclusive Chevy dealer you can trust to learn more information about our upcoming EV lineups, including its specs, features, and technology before its release. Be the first to get the Chevrolet Electric Silverado by reserving it in advance. Visit us at 118 Route 173 Antioch, IL 60002, or contact us at (800) 924-9007.