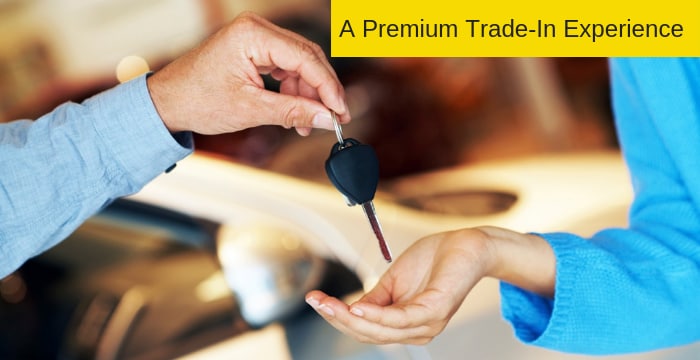 What's Your Car Worth at Raymond Chevrolet
Have you ever asked yourself the question "what is my car worth?" Are you thinking of trading in your car before purchasing a brand new Chevrolet? If you answered yes to either of these questions our online trade-in calculator is here to help. Created in partnership with Kelly Blue Book, we'll help you to find out how much your car could be worth so that you'll know what you have to spend when you find your dream car at our Chevy dealership.
A Chevy Trade in Center Near You

Here at Raymond Chevrolet, we offer trade-ins to customers from the entire surrounding area. Visit our showroom at 118 ROUTE 173 ANTIOCH, IL 60002 and our staff will be more than happy to help you exchange your old car for a brand new Chevrolet. It doesn't matter what make, model or year it is, we'll take any car off your hands in exchange for cold hard cash to go towards your new purchase. We understand that finding the money to fund a new car purchase can be tricky, that's why we are here to help you out as best we can.
How Do I Value My Trade In?

Get a Quote Below or Stop In!
Finding out the possible value of your trade-in is easy. Simply enter your vehicle's make, model and mileage, as well as your ZIP code, into our calculator to get started. You'll then need to enter what optional extras your car has, if any, and the kind of condition that it is in. Please be as honest and accurate as possible as it makes for a better valuation. As soon as you've done that, you'll be given an estimated range that our experts can use to make you a hard offer on your car. If you're happy, you can trade it in. If you're not, you're free to do whatever you want with your car.
Find Your Next Car at Raymond Chevrolet
Once you've found out how much your car is worth, the only other thing you'll need to do is to find your next dream car. And Raymond Chevrolet is the perfect place to start looking. At our showroom located at 118 ROUTE 173 ANTIOCH, IL 60002 you'll find all of the latest and greatest cars that Chevrolet has to offer. Why not take the sporty Camaro or Corvette for a spin? Or maybe you'd rather have something with a bit more oomph. If that's the case try the Colorado truck or the Equinox. Or maybe you want to cruise out of here in a Chevrolet Cruze. Whatever kind of car you're looking for, we have it in stock at Raymond Chevrolet.