Introducing the 2019 Chevy Silverado for Sale at Raymond Chevrolet
Are you looking for a truck that can service you properly no matter what the job? Do you want something rugged and durable but that also looks good and is fun to drive? If you answered yes to those questions then the 2019 Chevy Silverado is the truck for you.The Silverado has been refined even further for the 2019 model to give the modern American everything they need and more. 100 years of Chevy expertise has gone into making the Silverado the best truck money can buy. And it can be yours very soon when you buy from Raymond Chevrolet in Antioch, IL.But before you head down to our showroom, here's everything you need to know about Chevy's latest and greatest truck.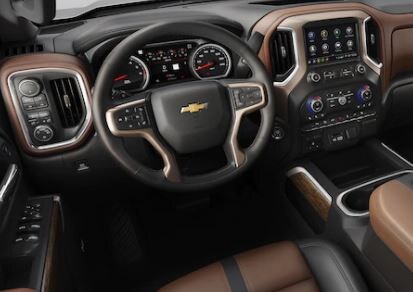 2019 Chevy Silverado features
The trucks powertrain options have been doubled for 2019. That includes a new 3.0L six-cylinder Duramax Turbo Diesel and two new V8 options: a 5.3L and a 6.2L. Upgrade to the 3.0L or the 6.2L and you'll also get a 10-speed automatic transmission with start-stop technology.
The cargo box has got an upgrade for 2019 and now features best-in-class volume so you can haul even more. That's 63 cubic feet to be precise.  It includes a 120V outlet and LED Rear Task Lighting so you can see what you're doing all times of the day and night.
There are now three-fixed tie downs welded into each corner of the bed that have been rated up to 500lbs. So you can keep anything secure.
The aerodynamics of the 2019 model have been improved, which have equated to a more stylish exterior look. But performance hasn't been affected.
One requested improvement by customers was more comfortable seating. And Chevrolet have delivered. The cabin design has been overhauled and rear passengers get an extra three inches of legroom in crew cab models.
Find the best deals on the 2019 Chevy Silverado at Raymond Chevrolet
Are you looking for an Antioch Chevy dealer or searching for a "Chevy near me"? Look no further, Raymond Chevrolet is here to service all of your Chevy needs. We are the leading Chevy dealer in Antioch and the surrounding areas. So if you live in Waukegan, Antioch, Katusha, or Grayslake and are looking to get your hands on the new 2019 Chevy Silverado, we're the dealer to turn to. As soon as the 2019 Chevy Silverado has rolled off the production line, we'll have it for sale and to test drive in our showroom. We'll also have some amazing financing deals to go with it thanks to the hard work of our fantastic finance center. Get in touch with our sales team today on (847) 786-2759 to find out more.