You're Only Minutes Away From a Chevy dealer near Schaumburg, IL that offers the Best Deals and Savings!
If you are looking for a Chevy dealer near Schaumburg, IL, that carries every Chevrolet model in its inventory to go along with accessible financing and budget-friendly special deals, Raymond Chevrolet is the place to go! Conveniently located at 118 Route 173, Antioch, IL 60002, driving enthusiasts and auto shoppers are only mere minutes away from enjoying one of the best Chevrolet experience in the area. For more on the best and the latest Chevys, customer-tailored financing options, trade-in-quotes, or to schedule a test drive, call (844) 338-9077 today!
There's always a Chevy For Sale Near Me that is tailored for any Budget or Need at Raymond Chevrolet
With Raymond Chevrolet, there are always Chevrolet models for sale near Schaumburg, IL that can cater every automobile need or budget. Car shoppers who are looking for a Sedan that has it all will find themselves satisfied with the Chevrolet Impala - a full-size car with a spacious interior, handsome look, composed handling, a perfect 5-Star overall vehicle score for safety from NHTSA, and plenty of technological features like available 4G LTE WIFI that can make your everyday ride a luxurious one. From Sports performance convertibles and coupes, practical Hatchbacks and versatile SUV's, comfortable and spacious Sedans and hardworking Trucks and Vans, Raymond Chevrolet has got you covered. For more on the current Chevy models in Raymond Chevrolet's inventory call(844) 338-9077 or stop by at Route 173 at Antioch to explore new car offerings at Raymond Chevrolet.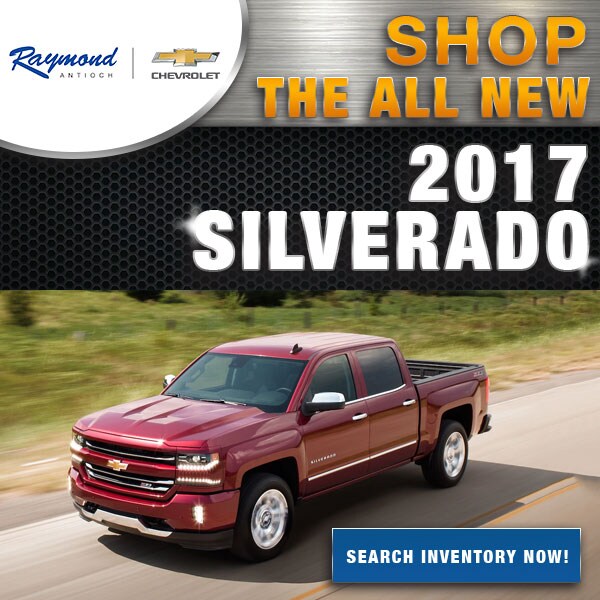 Superb Certified Pre-Owned Lexus Vehicles Are Waiting at Raymond Chevrolet
Is there a Chevy for sale near me that is not only budget friendly but also superbly conditioned to provide years of reliable service? With Raymond Chevrolet, the answer is yes! But Raymond Chevrolet is not just any Chevrolet dealer near Schaumburg, IL that offers superbly conditioned used cars; we are also among the few in the area that offer certified pre-owned Chevrolet vehicles. Low mileage, carefully hand-picked, and put through a stringent multipoint inspection and refurbishment process that's carried out by Chevrolet Trained Technicians, certified pre-owned Lexus vehicles still have what it takes and more to fulfill all your driving needs. For more on them or the other used cars near Schaumburg that are at Raymond Chevrolet, call (844) 338-9077.
Raymond Chevrolet Provides Certified Chevrolet Service Near Schaumburg, IL
If you are looking for a Chevy dealer near me that will keep your prized Chevy units in peak condition at all times, look no further than Raymond Chevrolet at Route 173 in Antioch IL. From inspecting and adjusting all fluid levels, replacing engine oil,  to visually checking brake pads, calipers, and rotors, Raymond Chevrolet provides all the services that your car needs. But we not only offer certified Chevrolet service near Schaumburg, but we also have authentic Chevrolet parts for sale too. To schedule service call (844) 338-9123. To order parts, however, call (844) 338-9132.